What is the Blood Stripe Guarantee?
It's our Too Easy return policy. Your Devil Dog shirts are covered for life.
Including tears, holes, loose threads, beer stains, and even blood stains from defending the American Flag from terrorists. Need a different size? Just send it back to us including the size you need.
Are Devil Dog Custom shirts covered under the Blood Stripe Guarantee?
Yes, DDS item shirts are covered under the Blood Stripe Guarantee and are replaced as inventory allows. Be advised, there may be instances where exact items cannot be reproduced. However, exchanges of equal or lesser value are accepted. Exchanges do not include PRE-ORDER products.
*Please include your name*
*The original Order ID Number and/or the billing name*
*Reason for the exchange (ie. size, defect, etc.) *
*Any updated contact/shipping information*
Send all returns or exchanges to:
Devil Dog T-Shirts
ATTN Blood Stripe Guarantee
4802 SW Scholls-Ferry Rd Ste C
Portland, OR 97225
Questions?
Shoot us a call at:
844-777-7784
or email us at:
hq@devildogshirts.com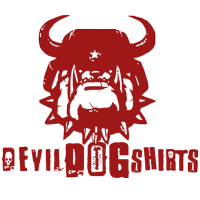 Join the Dog Pound!
Become part of the Dog Pound and receive announcements, cool stories, exclusive shirts and discounts. Be part of the team!