Day 2-5
Your Apparel is ordered and received.
Day 6-7
Items are printed and inspected.
Day 8-10
Your order is shipped!
Quickview

The Psalm 23:4 Fear no Evil Shirt is inscribed with the Bible verse Psalm 23:4 "Yea though I walk through the valley of the shadow of death, I will fear no evil, for you are with me; your rod and your staff, they comfort me"

$

26.95

Quickview

"Blessed be to the LORD my Rock, who trains my hands for war, my fingers for battle."

$

71.00

Quickview

Created out of respect for America's Cold War Veterans!  The US Military Cold War Veteran Challenge Coin!

$

24.50

Quickview

Devil Dog Shirts is proud to unveil our new Challenge Coin Displays!  Made of the finest wood, for the finest of Warriors!  Semper Fi!

$

68.95

Quickview

Devil Dog Shirt's brand new line of apparel of Marine Corps MOS Shirts is here!  It features a design that isn't to "in your face" moto.  So it would be safe to walk down the streets of Oceanside California in one of these. Very unlikely you will be accosted by street merchants saying they finance E-1 and above! 😀

$

26.95

Quickview

When Marines swear an oath we are bound to our country and Corps.  USMC Eagle, Globe, and Anchor Shirt!

$

26.95

Quickview

Rep your rank and unit with the USMC Sergeant Custom Rank Shirt!

$

26.95

Quickview

$

26.00
Quickview

USMC Semper Fidelis Bulldog Coin ™

$

24.00

Quickview

The Mount Suribachi USA flag was paid for with the blood of Marines!

$

26.95

Quickview

Your Best Friend. Your Worst Enemy.

$

24.00

Quickview

$

22.00

Quickview

Channel the Warrior Ethos of the ancient Spartan with this badass T-Shirt!!

$

26.95

Quickview

$

22.00

Quickview

A new design with much respect to our Devil Docs that care for our fellow Marines.  Semper Fi Devil Docs!

$

26.95

Quickview

"Be polite, be professional, and have a plan to kill everyone you meet!"  – James "Mad Dog" Mattis

$

24.50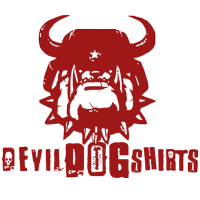 Join the Dog Pound!
Become part of the Dog Pound and receive announcements, cool stories, exclusive shirts and discounts. Be part of the team!